EVENT DATE: December 15, 2021
TOPIC: Intelligence as Democratic Strength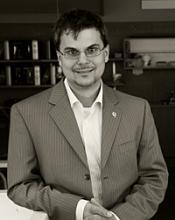 Christian Leuprecht (Ph.D, Queen's) is Class of 1965 Professor in Leadership in the department of Political Science and Economics at RMC. At Queen's University he is Director of the Institute of Intergovernmental Relations at the School of Policy Studies. He is a Munk Senior Fellow in Security and Defence at the Macdonald Laurier Institute and Editor-in-Chief of the Canadian Military Journal and Canadian Defence Academy Press. Christian is a former Fulbright Research Chair in Canada-US Relations at the School for Advanced International Studies at Johns Hopkins University in Washington, DC (2020) and a former Eisenhower Fellow at the NATO Defence College in Rome (2019). He is also an elected member of the College of New Scholars of the Royal Society of Canada and a recipient of RMC's Cowan Prize for Excellence in Research.
He is an expert in security and defence, political demography, and comparative federalism and multilevel governance. He has held visiting positions in North America, Europe, and Australia. He regularly teaches senior staff officer courses at allied military academies and as part of NATO's Defence Education Enhancement Program (DEEP). He is regularly called as an expert witness to testify before committees of Parliament and commissions of inquiry. He holds appointments to the Ontario Research Fund Advisory Board, the board of the German Institute for Defence and Strategic Studies, the Police Services Board of the City of Kingston, the Centre sur la gouvernance sécuritaire et de crise (CRITIC), the Polar Research & Policy Initiative in the UK as well as the scientific advisory committee of the One Society Network.
He has published 16 books, including his most recent, Intelligence as Democratic Statecraft (Oxford University Press 2021). His editorials appear regularly across Canada's national newspapers and he is a frequent commentator in domestic and international media. To top all that off, as a professor who is a long-time proponent of experiential learning, Professor Leuprecht has received recognition for his teaching excellence at both RMC and Queen's.